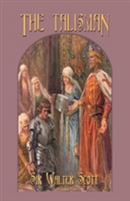 The Talisman
by Sir Walter Scott
The Talisman is a gripping tale set near the end of the Third Crusade. King Richard the Lionheart is grievously ill, and all around him the leaders from allied countries plot and scheme to gain personal power, putting the future of the crusade in jeopardy. Sir Kenneth of Scotland finds himself caught up in events, and finds both his honour and his life are now on the line. Can a cure be found for the King? Can Kenneth redeem his honour? – Written by Rowen.
Ivanhoe
by Sir Walter Scott
This text is not quite finished on librivox.
If you click on the link you can be emailed
as to when it is finished and listen to what's been recorded.
Heroes of the Middle Ages
by Eve March Tappan
"The object of this book is to bring together stories of the most important movements in the history of Europe during the Middle Ages, and to make familiar the names of the most important figures in those scenes. I have endeavoured to weave a tapestry in which, with due colour, may be traced the history of the rise and fall of the various nationalities and the circumstances and mode of life of each—in short, to give the young reader an approximation to the background for the study of his country's history which a wide reading gives to a man." (Summary from the Preface of Heroes of the Middle Ages by Eva March Tappan)
The above books are available on Librivox. As we get further into the Living Books Curriculum Middle Ages guide, I find that we really love the literature choices. We are reading books that
1) I didn't really know existed
2) are rich in vocabulary
3) are very well written and
4) are exciting and interesting.

I have not read any of the book above. Sad but true, somehow I missed Ivanhoe and Talisman. These are additional reading suggestions. Heroes of the Middle Ages is not listed in the guide, but I found it on librivox and it is a nice fit. We will only listen to selected chapters as it covers the entire middle ages. I like Eva March Tappan's books. She has a way of making them easy to read without watering it down into "twaddle." My daughter is enjoying them, as the chapters are short enough to not be frustrating. Other things coming up in next week's lessons are a medieval feast, a report about the Knights Templar, and some time working on her timeline. I believe all of the books I linked on librivox also have free online texts that you can read as well.


Note: Links have been updated and I have added summaries of the books from the librivox website.