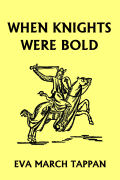 This book is in no degree an attempt to relate the involved and intricate history of the Middle Ages. Its plan is, rather, to present pictures of the manner of life and habits of thought of the people who lived between the eighth and fifteenth centuries. Our writings and our everyday conversation are full of their phrases and of allusions to their ideas. Many of our thoughts and feelings and instincts, of our very follies and superstitions, have descended to us from them. To become better acquainted with them is to explain ourselves. (Summary from the Preface of

When Knights Were Bold

)
Librivox is my new favorites website. A nice bonus is that I can have librivox running in one tab and then click on another tab and see what the
Nester
is doing on her blog or rearrange my virtual bedroom on
Better Homes and Gardens
. This is sort of the equivalent of having your cake and eating it too. Seriously, I do have another reason for loving librivox and it has to do with dyslexia. If you have child who struggles with reading (dyslexic or not) listening to books read aloud is a great way to improve their reading. In fact, it improves all kid's reading, but is especially helpful for those with dyslexia or other reading difficulties. [I'll try to edit this post later with some research to support that statement. ]
I did a quick google this morning and found that librivox has recorded
When Knights Were Bold
. This is a book used in the Living Books Curriculum Middle Ages study. Being dyslexic, my daughter really benefits from reading along while I (or librivox) read aloud. This helps a great deal with fluency as well as comprehension. It is sort of like when you are teaching a child to write and you hold their hand to help them make the letters. With dyslexia, they often struggle with the decoding enough that by the end of a paragraph (sometimes even the end of a sentence) they may have entirely forgotten what they read because the decoding required such effort. Read it aloud, while they read along, and you are holding their hand through the decoding so to speak. The correct decoding is reinforced, the comprehension is better, and they enjoy that reading instead of dreading it. There are lots of reasons why this helps, but I'll not bore you with all of that. :-)
Although this is my 11 year old daughter's school work, my 7 year old son insists on listening along. He is now officially over his obsession with dinosaurs and it is firmly replaced with a new one of dragons, knights, and castles. I love how he puts on armor, a helmet and shield and holds his plastic sword while we read it aloud. For fun, I think I'll have the girls put on their dress up clothes and instead of our usual narration, I'll have them act out today's chapter from When Knights Were Bold. It's Friday after all and they have worked really hard all week.
If you would like to read this book, it can be purchased from
Living Books Curriculum
here
or found as an e-text
here
. I would say that a child that can read independently on a 4th grade level (or can read a Nancy Drew or Hardy Boys book easily) could read this book alone (although I did not do an official readability on it). It is 312 pages, but the text is larger than usual and the chapters are not too long. You could also easily read part or all of the book as the chapters each stand alone in content.